2017 Scientific Committee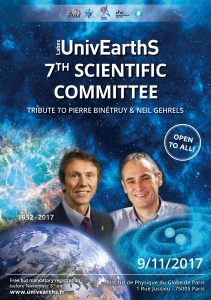 The Labex UnivEarthS is pleased to invite you to its seventh scientific council which will take place on 9 and 10 November 2017 in Paris.
Thursday, November 9th will be a day of tribute to the works of Pierre Binétruy and Neil Gehrels, who unfortunately left us this year. These two great scientists have left behind an extraordinary legacy, which we wish to highlight and make fruitful within UnivEarthS.
Friday, November 10 will be devoted to a closed session, where the members of the scientific committee will discuss the progress of UnivEarthS projects. This session is not open to the public.
The first day of the Scientific Council is OPEN TO ALL, the registration is free but mandatory before 05 November 2017.
Registrations are free but mandatory to ensure that everyone has secure access to the conference venue. Please register by filling out the form at the following address: http://bit.ly/2xV5Yrd

This is a preliminary version of the program, which may be subject to change at a later date.

9th November

9h00-11h00 : Tribute to P. Binetruy

Tribute to N. Gehrels

11h00-11h30: Coffee break

11h30-12h30: UnivEarthS future, DANTE & Microgravity

13h00-14h00: Lunch break

14h00-16h00:  WP leaders presentations

16h00-16h30: Coffee break

16h30-19h00: WP leaders presentations

M.Chaussidon

M. Barsuglia

I. Grenier

S. Katsanevas

The list of speakers will be further developed.


A list of participants will be posted soon.

The scientific committee will take place in the amphitheater of the Institute of Physics of the Globe of Paris, 1 rue Jussieu 75005 Paris.

.


Enregistrer
Enregistrer