Fall School 2014 in Florence (Italy)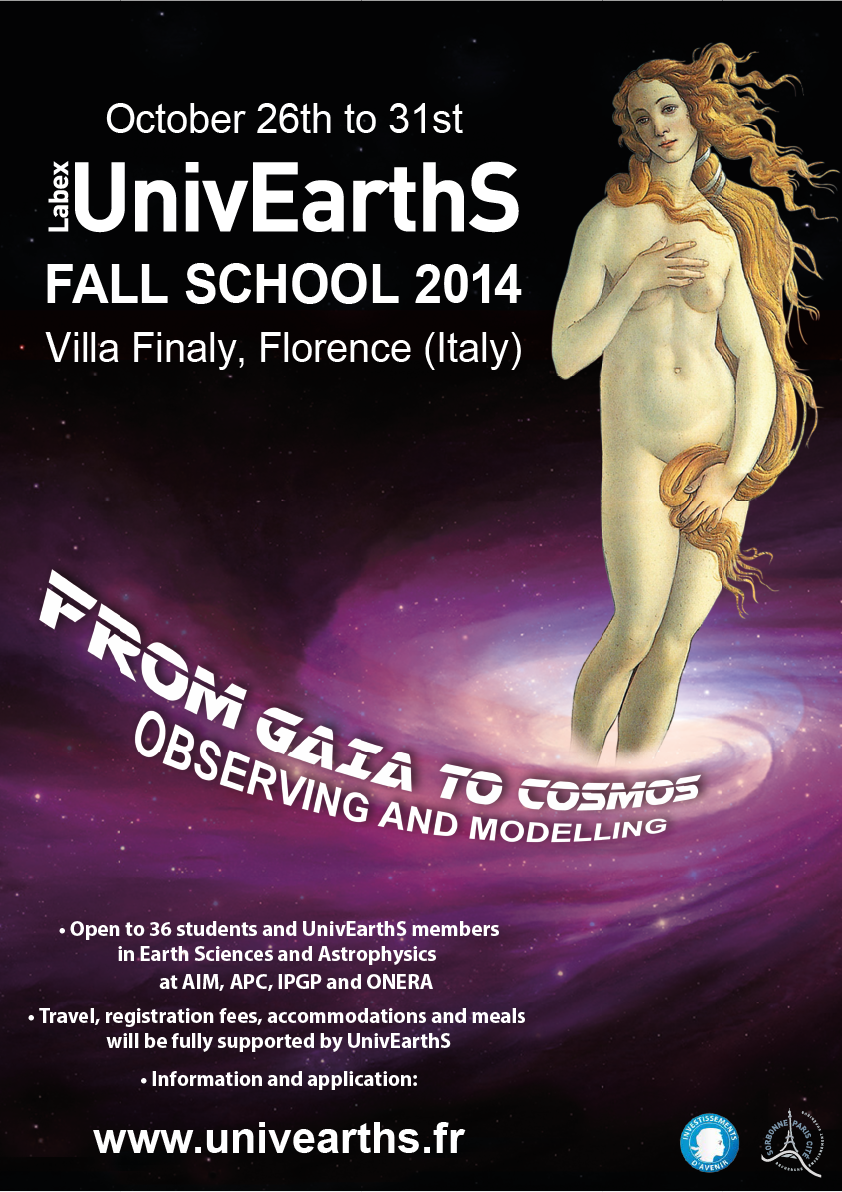 REGISTRATION CLOSED
Part of the Investissements d'Avenir program, Labex have ,among other ambition, the one to play a leading role in the teachings of Masters and PhD levels.
UnivEarthS Labex first Fall School will take place in Florence (Italy) from 26 to 31 October 2014.
It is open to students in master's or PhD in the fields of earth science and astrophysics at the AIM, APC, IPGP and ONERA also to UnivEarthS's members. 36 places are available, with a full supported of the Labex.
Under the theme "From Gaia to Cosmos, observation and modeling," this Fall school aims to train to the multidisciplinary thematics of UnivEarthS Labex. A cross between educational cultures of the different laboratories will be encouraged.
Participants will be required to present a poster on their latest research work.
To apply for registration, which will be reviewed by a selection committee, thank you for returning befor september 25th this form to the following address:
univearths2014@uni-paris-diderot.fr
UnivEarthS Labex Fall school applications for registration are close.

The positions (36) are available to the following persons:

– Students from STEP master

– Students from Masters A & A and NPAQ

– PhD students from ED 109 "Earth Sciences, Environment, and Physics of the Universe, Paris" (STEP'UP)

within the Programme Terre, Environment
within the Programme Physique de l'Univers

– UnivEarthS's members: PhD students, post-docs, engineers and technicians
Application form: Form
Return before september 25th the completed form to the following address: univearths2014@univ-paris-diderot.fr

Applications which complete the conditions mentioned above will be reviewed by a selection committee and an answer will be given as soon as possible.

Each participant must complete and present a poster on his latest work.

Here the indicative program of the Fall School.

-=-=-=-=-=–=-=-=-=-=–=-=-=-=-=–=-=-=-=-=–=-=-=-=-=–=-=-=-=-=–=-=-=-=-=–=-=-=-=-=-

SUNDAY, OCTOBER 26TH

– Departure Flight: 4:50 p.m. – arrival in Florence: 6:40 p.m.

– Transfer to Villa Finaly

– Installation and Villa visit

– 8:00 p.m. Welcome drink & presentation of UnivEarthS and partner laboratories

– Dinner at the Villa

-=-=-=-=-=–=-=-=-=-=–=-=-=-=-=–=-=-=-=-=–=-=-=-=-=–=-=-=-=-=–=-=-=-=-=–=-=-=-=-=-

MONDAY, OCTOBER 27TH

– Breakfast at the Villa

– 10:30 a.m. to 11:00 Coffee Break
– 11:00 a.m. to 1:00 p.m. Astrosciences Course: History of the Cosmos – Pierre Binetruy

– 1:00 p.m. to 3:00 p.m. Lunch at Villa

– 3:00 p.m. to 4:00 p.m. Astrosciences Conference (1) – Isabelle Grenier
– 4:00 p.m. to 5:00 p.m. Astrosciences Conference (2) – Alessandra Tonazzo

– 5:30 p.m. to 6:00 p.m. Poster pico presentations Geosciences
– 6:00 p.m. to 7:30 p.m. aperitif around Geosciences posters

– 8:00 p.m. Dinner at the Villa

-=-=-=-=-=–=-=-=-=-=–=-=-=-=-=–=-=-=-=-=–=-=-=-=-=–=-=-=-=-=–=-=-=-=-=–=-=-=-=-=-

TUESDAY, OCTOBER 28TH
– Breakfast at the Villa

– 8:30 to 10:30 a.m. Geoscience Courses – Observe and measure the Earth – Claude Jaupart
– 10:30 to 11:00 a.m.  Coffee Break
– 11:00 a.m. to 1:00 p.m. Course Astrosciences – The CMB Today and Tomorrow – Ken Ganga

– 1:00 p.m. to 3:00 p.m. Lunch at Villa

– 3:00 p.m. to 4:00 p.m. Geosciences Conference (1) – Structure and composition of the Earth – Edouard Kaminski
– 4:00 p.m. to 5:00 p.m. Geosciences Conference (2) – Function and thermal evolution of the Earth
Jean-Claude Mareschal

– 5:30 p.m. to 6:00 p.m. Pico poster presentations Astrosciences
– 6:00 p.m. to 7:30 p.m. aperitif posters around Astrosciences

– 20h00 Dinner at the Villa
-=-=-=-=-=–=-=-=-=-=–=-=-=-=-=–=-=-=-=-=–=-=-=-=-=–=-=-=-=-=–=-=-=-=-=–=-=-=-=-=-

WEDNESDAY, OCTOBER 29TH

– Breakfast at the Villa

– 8:30 to 10:30 a.m. Geoscience Courses – Numerical modeling and experimental science of the Earth:
the case of thermal convection – Cinzia Farnetani
– 10:30 to 11:00 Coffee Break
– 11:00 a.m. to 1:00 p.m. Course Astrosciences – The CMB Today and Tomorrow – Ken Ganga

– Transfer to Cascina and lunch

– Introductory course on gravitational waves, VIRGO and EGO – Michele Punturo
– Visit of VIRGO and EGO

– Back to the Villa

– Free time

-=-=-=-=-=–=-=-=-=-=–=-=-=-=-=–=-=-=-=-=–=-=-=-=-=–=-=-=-=-=–=-=-=-=-=–=-=-=-=-=-

THURSDAY, OCTOBER 30TH

– Breakfast at the Villa

– 8:30 to 10:30 a.m.Geoscience Courses – Treatment of massive data in earth science: the example of seismic noise
Jean-Paul Montagner
– 10:30 to 11:00 a.m. Coffee Break
– 11:00 a.m. to 1:00 p.m. Course Astrosciences – Modeling planetary – Sébastien Charnoz

– 1:00 p.m. to 3:00 p.m. Lunch at Villa
– 3:00 to 4:00 p.m AstroParticule-Geosciences Conference – Stavros Katsanevas

– Late afternoon and evening free

-=-=-=-=-=–=-=-=-=-=–=-=-=-=-=–=-=-=-=-=–=-=-=-=-=–=-=-=-=-=–=-=-=-=-=–=-=-=-=-=-

FRIDAY, OCTOBER 31ST

– Breakfast at the Villa

– Transfer to Florence airport and back to Paris: return flight 10: 00-11: 50 a.m.

Pierre Binétruy, APC : Histoire du Cosmos
Sébastien Charnoz, IPGP : Modélisation en planétologie
Marc Chaussidon, IPGP : Formation des planètes et histoire de la Terre
Cinzia Farnetani, IPGP : Modélisation numérique et expérimentale en Sciences de la Terre (convection et les approches numériques vs expérimentales)
Ken Ganga, APC : The CMB Today and Tomorrow
Isabelle Grenier, AIM : à préciser
Claude Jaupart, IPGP : Observer et mesurer la Terre
Édouard Kaminski, IPGP : Structure et composition de la Terre
Stavros Katsanevas, APC : Les enjeux scientifiques où se rejoignent astro et géosciences (à confirmer)
Jean-Claude Mareschal, UQÀM (Canada) : Fonctionnement et évolution thermique de la Terre
Jean-Paul Montagner, IPGP : Traitement de données massives en Géosciences – ex. de la sismologie
Michele Punturo, INFN (Italy) : Introduction aux ondes gravitationnelles, à VIRGO et EGO
Alessandra Tonazzo, APC : Les Neutrinos, messagers de l'Univers, de la Terre et de la physique fondamentale

You will find here is the list of school Fall LABEX UnivEarthS's participants.

– Quentin BAGHI, ONERA, doctorant
Poster "Searching for a violation of the Equivalence Principle through the data analysis of the MICROSCOPE space mission : main issues"

– Nathalie BRASSEUR, professeur SVT Lycée Bergson Paris 19ème
Participe à la cordée IPGP « Terre en vue » ; pas de poster requis

– Cécile CAVET, APC, ingénieur de recherche
Poster "Cloud computing for Astroscience applications"

– Pierre CHANIAL, APC

– Natacha COMBIER, APC, ingénieur de recherche
Poster "UnivEarthS IGOsat nanosatellite student project"

– Tanguy DECOURCELLE, APC, ingénieur
Posters "1: Observational Cosmology for students 2: Kinetic Inductance Detectors : A novel detection technique"

– Alizée DUBOIS, IPGP

– Lucile FAYON

– Jérémy FENSCH, AIM/SAp

– Soline FLAMENT, professeur SVT Lycée Bergson Paris 19ème
Participe à la cordée IPGP « Terre en vue » ; pas de poster requis

– Faustine GENDRON, professeur SVT Lycée Bergson Paris 19ème
Participe à la cordée IPGP « Terre en vue » ; pas de poster requis

– Julien GIRARD, AIM, post-doctorant
Poster « Applying sparsity to interferometric radio data for image reconstruction with LOFAR and SKA"

– Pierre GRUNING, APC

– Navid HEDJAZIAN, IPGP, doctorant
Poster « Can we deduce upper mantle flow from seismic anisotropy ?"

– Raphael ILHIAT, AIM/Sap

– Henri-René INCHAUSPE, APC, doctorant
Poster « From LISAPathfinder to eLISA mission"

– Kévin JUHEL, IPGP, doctorant
Poster « Earthquake early warning system based on instantaneous gravity anomalies"

– Foivos KARAKOSTAS, IPGP, doctorant
Poster "Comparative shock waves analysis between Earth and Lunar meteor impacts"

– Roselyne KEMP, professeur SVT Lycée Bergson Paris 19ème
Participe à la cordée IPGP « Terre en vue » ; pas de poster requis

– Balthasar KENDA, IPGP, master 2
Poster "Convection with internal heating and thermal evolution of planetesimals"

– Angela LIMARE, IPGP, ingénieur de recherche
Poster "A combined experimental and numerical approach for the mantle convection of telluric planets"

– Yasuhiro NISHIKAWA, IPGP, doctorant
Poster "Modeling of the atmospheric continuous excitation of Mars background free oscillation with GCM"

– Pierros NTELIS, APC

– Mauro PIERONI, APC

– Virgile RAKOTO, IPGP, doctorant
Poster "Modeling and inversion of the ionospheric perturbation for the Haida gwaii earthquake tsunami"

– Prisca RASOLOFOMANANA, IPGP

– Zarie ROUAS, IPGP

– Volodymyr SAVCHENKO, APC

– Mikhail STOLPOVSKIY, APC

– Claude TANNOURY, IPGP

– Arnaud VAN PRAET, prof. SVT

pplications for registration are reviewed by a selection committee, whose composition is as follows (in alphabetical order):

– Stéphane CORBEL, AIM, Master A&A Paris Diderot director

– Frédéric FLUTEAU, IPGP, Master STPE director

– Céline GIRAUD, Univ. Paris Diderot, Labex UnivEarthS project manager

– Yannick GIRAUD-HÉRAUD, APC, Ecole Doctorale STEP'UP vice-director

– Edouard KAMINSKI, IPGP, UFR STEP director & member of Labex UnivEarthS Executive Board

– Antoine KOUCHNER, APC, Master NPAC APC director

– Laure MEYNADIER, IPGP, Ecole Doctorale STEP'UP director

 

UnivEarths Labex Fall school will take place in Florence from the 26th of october to the 31st.

The departure will be on October 26th and return on the 31st, airline tickets dates can not be changed for participants.

All costs (transport, accommodation, meals) are supported by the UnivEarthS Labex except for the free time.

Here are some useful links to discover Florence

Accommodation will be provied at Villa Finaly.

Find more information on Villa Finaly website:

A VIRGO site visit is scheduled on Wednesday.

Visit the websites of scientific coloboration EGO:
EGO
VIRGO
Enregistrer