2017-2019 New projects call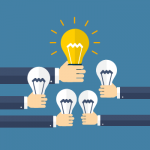 The UnivEarthS Labex is a project that aims to promote interaction between the geosciences and astrosciences, by developing collaborations between laboratories AIM, APC, IPGP and ONERA (LUTh, GEPI and IMCCE are also associated laboratories).
The project will end on December 31, 2019 and the 3 years that remain are to be focused on:
complete and finalize actions already started and financed
prepare the renewal of Labex around new issues and new ideas
start focused projects that can be completed within 3 years
Today, the Labex lunches its last projects call.
The objective is to plan the use of a large part of the funds that remain available, for the next 3 years. To date, 70% of available funding were used and another 11% have already been committed (HR) for the last 3 years.
Three types of projects are eligible under this call: exploratory, interface and transfer. Labex will support on the order of 2 to 4 new exploratory projects, one or two new interface projects and one or two projects /actions of transfer (valorization), all over 3 years maximum.
For more information on the project categories, please read the proposal call document.
In your proposal, you must specify the amounts requested per year for the next 3 years (2017-2019). You must also take into account the fact that the UnivEarth's available funding will go on diminishing over the next 3 years.
To achieve the above objectives, the Executive Board asked you to demonstrate how these funds would bring out new themes supporting new aspects and opening up new prospects for the continuation, development and enrichment of the Labex.
To submit your proposal (reply to Céline Giraud), the deadline is the MONDAY 17th OCTOBER at the LATEST.
The eligibility of received applications will first be examined by the Executive Board. The projects selected will then be presented by their leader during the UnivEarthS Scientific Committee to be held on 28 and 29 November at IPGP (Jussieu). The incorporation (or not) of the new project in the overall budget, will then be decided by the Executive Board, following the recommendations of the Scientific Committee.
Document:
2016 Scientific Committee Proposal call.doc
Contact :
Céline Giraud
Labex UnivEarthS Project Manager
celine.giraud@univ-paris-diderot.fr
Enregistrer
Enregistrer
Enregistrer
Enregistrer
Enregistrer
Enregistrer
Enregistrer
Enregistrer
Enregistrer
Enregistrer