The 6th Scientific Committee of Labex UnivEarthS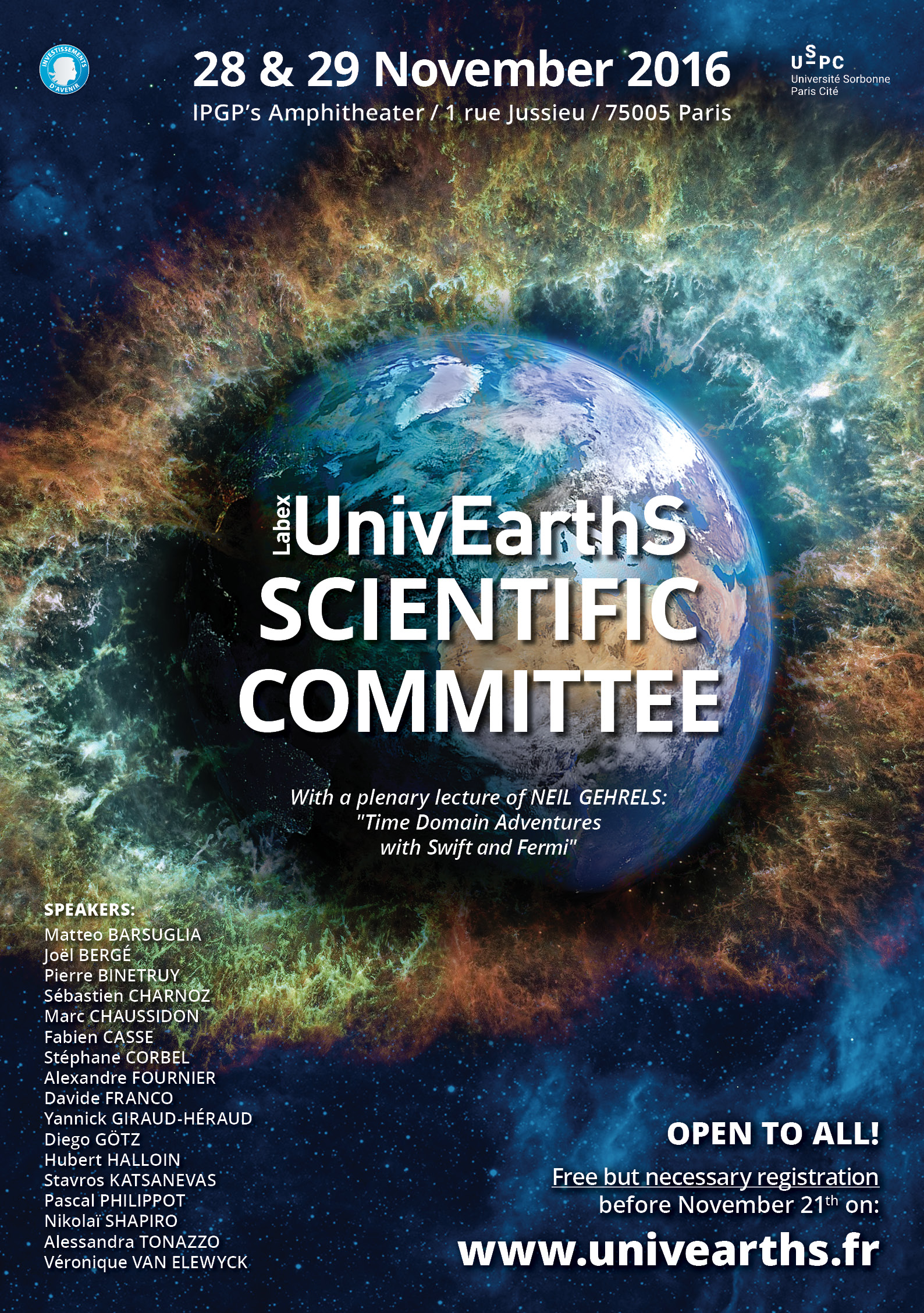 The Labex UnivEarthS is pleased to invite you to its sixth scientific committee, to be held on Monday 28 & Tuesday 29 November 2016 in Paris.
The leaders of the 18 UnivEarthS projects will present the advances of their work, on subjects as varied as the formation of planets, the development of tools for  space, or the evolution of life on Earth (visit the page of all projects).
We will also have the honor to attend a conference given by Dr. Neil GEHRELS, director of the Astroparticle Physics Laboratory, NASA / GSFC, and member of UnivEarthS scientific committee, on "Time Domain Adventures with Swift and Fermi ".
The Scientific Council is OPEN TO ALL with registration (free but required) before November 21, 2016.
The presentations will be open to the public all day Monday and Tuesday morning. The session on Tuesday afternoon will be reserved for members of the Scientific Council and therefore closed to the public.

Download the program on PDF file.

Monday, 28 November

[table "2" not found /]


Tuesday, 29 November

[table "3" not found /]


To register, please  fulfill the registration form.


Registration is free but required, and must be completed before 21 November 2016.

Matteo BARSUGLIA
Joël BERGÉ
Volker BECKMANN
Pierre BINETRUY
Cécile CAVET
Sébastien CHARNOZ
Marc CHAUSSIDON
Fabien CASSE
Stéphane CORBEL
Alexandre FOURNIER
Davide FRANCO
Yannick GIRAUD-HÉRAUD
Diego GÖTZ
Hubert HALLOIN
Gauthier HULOT
Karl KOSACK
Stavros KATSANEVAS
Chloé MICHAUT
Pascal PHILIPPOT
Nikolaï SHAPIRO
Alessandra TONAZZO
Véronique VAN ELEWYCK

Leaders of new proposals:
Sylvain CHATY
Alexis COLERIO
Patrick HENNEBELLE
Philippe LABROT
Antoine LUCAS
Manuel MOREIRA

&

Neil GEHRELS

Please note the registration is still open and this list will evolve.

[table "4" not found /]





The scientific committe will take place in the amphitheater  of the Institut de Physique du Globe de Paris, at 1 rue Jussieu 75005 Paris.


Enregistrer
Enregistrer
Enregistrer
Enregistrer
Enregistrer
Enregistrer
Enregistrer
Enregistrer
Enregistrer