Sandrine Peron wins the award "Generation Young Researcher"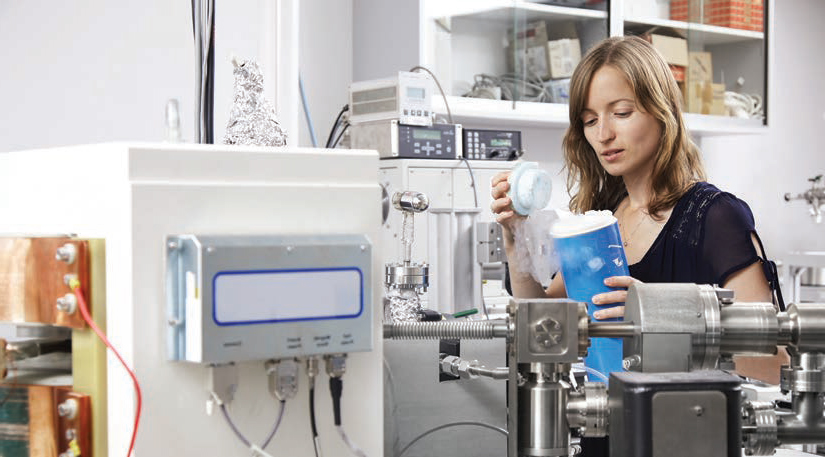 On October 11, 2017, the L'Oréal Foundation organized the event "Generation Young Researchers", an interactive conference with inspirational presentations, round tables and interviews, followed by the 2017 L'Oréal-UNESCO "For Women in Science" award in partnership with the Academy of Sciences and the French National Commission for UNESCO.
Among the laureates of the year 2017 is Sandrine Péron, a PhD student at Paris 7 University working in the laboratory of the Institut de Physique du Globe de Paris in the team Cosmochemistry, Astrophysics and Experimental Geophysics, alongside the UnivEarthS team V3: Cosmogenic in situ dating of extraterrestrial surfaces.
The origin of the solar system, planets and life, still has many unknowns. Among them, the way things on Earth came to life such as water, nitrogen and carbon, remains a mystery.
This is precisely the purpose of Sandrine Péron's research. She uses rare gases such as helium or neon, as tracers sources of these elements and thus analyzes samples from one of the oldest parts of the Earth, the lower mantle. The rare gases are analyzed in two stages. At first, the gas bubbles are identified in the samples using a three-dimensional imaging technique, called "X-ray microtomography". In a second time, once
identified, the gas bubbles are drilled one by one laser to measure the rare gases they contain. "This method has the advantage of being free from atmospheric contamination by analyzing only the contents of the bubbles and not the whole sample. "
The young Breton, who is also passionate about volcanoes (she has already explored those of Italy, Hawaii and the Vanuatu Islands), seeks to determine precisely the composition of the Earth. In the long term, these results can be used to prepare space missions and to analyze samples collected.
https://www.fondationloreal.com/posts/bourses-l-oreal-unesco-pour-les-femmes-et-la-science-2017/fr
http://www.ipgp.fr/fr/peron-sandrine
Enregistrer