In memoriam Natacha Combier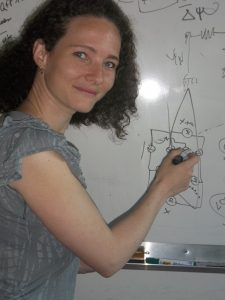 It was with great sadness that we learned of the death of Natacha Combier on February 7th.
Natacha was the first project leader of IGOSat, a nanosatellite student. Coming out of Supélec, with stars in her eyes and feet firmly on Earth, Natacha wanted to make satellites.
The petulance of her eyes, her passion and her intelligence quickly convinced us that she was the right person to start this crazy project. We were not wrong.
Thanks to her, IGOSat is on the right track. Proficient and attentive, Natacha knew how to smooth out technical difficulties and red tape, motivate students who lack self-confidence, coax all grumpy old people who think that space is too serious a business for amateurs, and stubborn when decidedly, the obstacle resisted her.
We will keep from her all her curiosity, her energy and especially her exceptional human qualities. Before joining IGOSat in 2013, she had spent one year studying in Buenos Aires and a long trip to meet the inhabitants of the Mongolian steppes. As a facilitator and instructor for children and adolescents, she also founded an association that brings culture to the prison environment. It is thanks to his perseverance, that three small IGOSat presentation films were made by inmates of the Penitentiary Center of the South of France.
Natacha had withdrawn from the IGOSat project in 2014, when her illness appeared suddenly. Faithful to her temperament, Natacha fought body and soul, defying a time the ominous prognostics. Unfortunately, his will to live was not enough.
It seems that two times brighter stars live half as long. In this case, the laws of the Universe should not apply to people like Natasha. Natasha went to join the cosmos, to the stars that made her dream. She was going to celebrate her thirtieth birthday.
Hubert Halloin,
scientific director of IGOSAT project