Irene Joliot-Curie's Grant: launch of the 2018 edition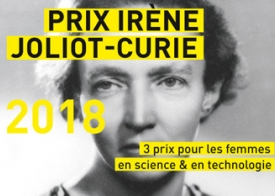 The French Ministry of Higher Education, Research and Innovation and Airbus launches the 17th edition of the Grant Irène Joliot-Curie.
The Grant Irène Joliot-Curie 2018 has three categories:

 

The "Female Scientist of the Year" category honors a woman who has made a remarkable contribution to the field of public research through the opening of her subject, the importance of her work and recognition in her scientific field at the national level

international – endowment: 40 000 €.

 

The category "Young Female Scientist" highlights and encourages a young woman who is distinguished by a career and works that make her a talented specialist in her field – endowment: € 15,000.

The category "Woman, Research and Company" rewards a woman who has developed scientific and / or technical innovations in a research & development function, by working in a company, or by contributing to the creation of a company –

endowment: € 15,000.




Application forms and regulations are available

on the ministry's website..

The closing date for applications is Friday, June 15, 2018.
Created in 2001, the Irène Joliot-Curie Grant is designed to promote women's place in research and technology in France. It is awarded by the French Ministry of Higher Education, Research and Innovation and by Airbus. To this end, it highlights the exemplary careers of women scientists who combine excellence and dynamism.

Since 2011, the scientific scope of the Prize has been strengthened by a partnership with the Academy of Sciences and the Academy of Technology, in charge of the constitution of the jury that will designate the laureates. The jury of this 17th edition will be chaired by Catherine Cesarsky, Senior Scientific Advisor at CEA and member of the Academy of Sciences.