2018 Scientific Committee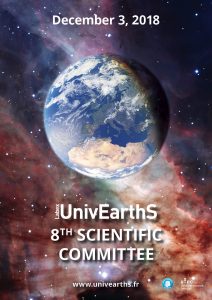 The Labex UnivEarthS will hold its eighth Scientific Council on December 3, 2018 in Paris.
This year, the Scientific Council will be held in closed session, during which the members of the Scientific Committee and the Executive Board will discuss the progress of the projects supported by the UnivEarthS Labex.
The Scientific Council will take place at 1:30pm in the IPGP Boardroom (n°108), 1 rue Jussieu, 75005 Paris.
This year, the Scientific Council is composed of the following people, who evaluated the ongoing projects of the Labex UnivEarthS:

Joël BERGÉ
ONERA – The French Aerospace Lab
Piercarlo BONIFACIO
GEPI – Galaxies, Stars, Physics and Instrumentation
Donald DINGWELL
LMU Munich Department of Earth and Environmental Sciences, Section of Mineralogy, Petrology and Geochemistry
Edouard KAMINSKI
IPGP – Institut de physique du globe de Paris
Stavros KATSANEVAS
EGO – VIRGO
Pierre-Olivier LAGAGE
AIM – Astrophysique, Instrumentation, Modelisation
Bernard MARTY
CRPG Nancy – Centre de Recherches Pétrographiques et Géochimiques
Alessandro MORBIDELLI
OCA – Observatory of Nice
Edward STOLPER
Chtyaltech – Division of Geological and Planetary Sciences

 

In 2018, the Scientific Committee will meet in closed session with only the members of the Executive Board and the Scientific Council.

The following members of the executive board will be present:

Marc Chaussidon, UnivEarthS director
Antoine Kouchner, UnivEarthS co-director
Isabelle Grenier, representative of AIM
Sotiris Loucatos, representative of APC
Gauthier Hulot, representative of IPGP

Are also invited:

Eleni Chatzichristou, project manager
Clémence Epitalon, communication officer

The 2018 Scientific Committee is held at the Institut de Physique du Globe de Paris, 1 rue Jussieu 75005 Paris.

.