UnivEarthS educational projects
UnivEarthS PHD
With UnivEarthS, students were able to finance their research thesis. You will find below the presentation of their work and for those who have passed their PhD, the result of their researches.
Go further to see UnivEarthS PHD
---
Student nanosatellite IGOSat
Université Paris Diderot develops a student project of nano-satellite creation, within the Labex UnivEarthS. It is a project of the program JANUS CNES – French Space Agency – to coaching students satellites in France. Initiated in 2013, this small satellite (30 cm x 10 cm x 10 cm), designed entirely by students, will be launched in 2018. IGOsat horizon is primarily an educational project and progresses through successive generations of student work . Since the beginning of development, more than 150 students participated in the design, testing or simulations of the mission. It also has the support and expertise of researchers and professors from the University Paris Diderot and associated laboratories: APC, IPGP and AIM.
To go further, visit the website dedicated to IGOSat project (french).
---
UnivEarthS Fall School
Since 2014, UnivEarthS organizes an autumn school that brings together about 30 students during a week during a special place.
The positive returns from this week of school are an encouragement to continue the mission of Labex: bring together researchers from different disciplines, and create interfaces between Earth Sciences and Physics of the Universe. Indeed, it is through this kind of event that UnivEarthS promotes interdisciplinarity and the connection between its various research areas.
You can read the themes and consult the supports provided by professors and students on this page. 
---
STEP'UP Doctoral School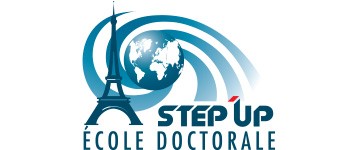 All UnivEarthS themes are grouped in a doctoral school: STEP'UP for Sciences de la Terre et de l'Environnement et Physique de l'Univers, Paris (Earth Science and Environment and Physics of the Universe, Paris).
This doctoral school gathers IPGP, University Paris Diderot, ENS and UPMC and has 220 doctoral students. It covers a broad scientific scope that includes disciplines of Geosciences, Environment and Planetary, Physics of the two infinities. Each year, more than 55 doctors support their thesis within STEP'UP.