French Gender in Physics Day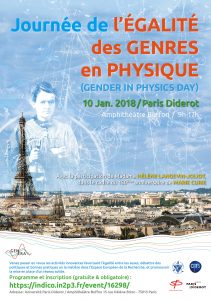 The CNRS and the APC laboratory met to organize the Gender in Physics Day event (GiPD), on January 10, 2018, to be hosted by Paris Diderot University.
The purpose of this one-day conference is to review innovative activities promoting gender equality, to discuss policies and good practices in the area of ​​the European Research Area, and to promote the establishment of a strong network.
The conference will consist of a series of presentations and plenary sessions, followed by a round table. We adress to a varied audience: junior and experienced researchers, managers and decision-makers, students, as well as all other interested parties.
The conference is organized within the framework of the European project GENERA (Gender Equality Network in the European Research Area), funded by the Horizon 2020 Framework Program. Various Research Performing Organizations (RPOs) and research funding agencies ( Research Funding Organizations – RFO) are partners in the GENERA project, including the CNRS. The debates will focus on the situation of gender equality in French organizations, actions undertaken, results observed and future prospects.
Do you want to attend the Gender in Physics Day? Register now ! Registration free but mandatory.
Official website of the event : https://indico.in2p3.fr/event/16298/overview