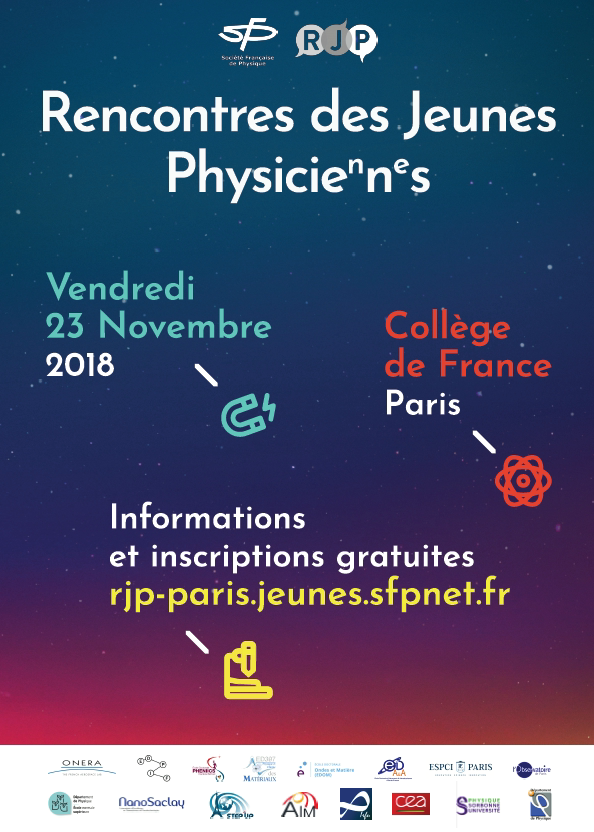 The 6th edition of the "Rencontres Jeunes Physiciens" (RJP)  from Ile de France will take place at the Collège de France on Friday 23 November 2018.
The objective of these Meetings is to bring together the community of young physics researchers from Ile de France for a day of colloquium organized by and for them. This day allows everyone to remain open and curious about all areas of physics. Exchanges of views and professional experience are also encouraged in order to enable doctoral candidates to create a network.
The day of the Meetings is structured around about fifteen oral presentations as well as a poster session given by doctoral and post-doctoral candidates, with the aim of offering an overview of their field and presenting their own work. Each presentation lasts 15 minutes, plus 5 minutes for questions. Particular attention must be paid to the pedagogy and perspective of the subject in a more general context. The subject must remain accessible to a public of non-specialist physicists in the field. In order to facilitate exchanges, the poster session will be organized during the extended lunch break and will continue at the end of the day.
To participate:
The selection is made by a call for abstracts: the main criteria are the quality of the research and the clarity of the subject. The quantity of results published is only an optional criterion, the target audience being mainly composed of doctoral students or junior researchers.
For registration and other information related to RJPs, go directly to the site: