Eleonora Capocasa et Valerie Domcke receives the award L'Oréal-Unesco "Génération Jeune Chercheuse"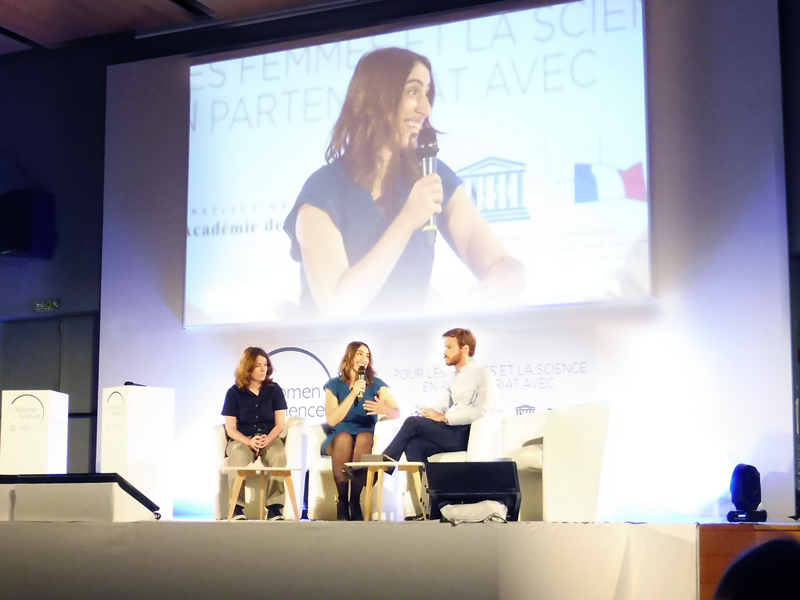 To open science professions to women and promote parity in positions of scientific responsibility, the Scholarships program L'Oréal-UNESCO "For Women in Science" awards each year young women researchers, in partnership with the French Academy of science and the French national Commission for UNESCO.
This year, from more than 1,000 nominations in France, thirty young women scientists were nominated and two of them belong to the APC laboratory: Eleonora Capocasa and Valerie Domcke.
Eleonora Capocasa, PhD student, is working with Matteo Barsuglia team on the project Geophysics and gravitational wave detectors. "My thesis project aims to improve the sensitivity of existing instruments to better detect gravitational waves and have access to their information. This requires the development of advanced technologies in the field of optical interferometry, in order to reduce the main sources of noise that can mask the very weak signal of gravitational origin. "
Valerie Domcke, recruited by UnivEarthS as a postdoc in the team "Support the PCCP" intends to examine possible signatures of various theoretical models of the early Universe, with a single tool: gravitational waves. "I've always been fascinated by the connection between particle physics and cosmology. My goal is to provide a consistent and testable model based on the particle physics and describe the early universe. "
Through the program of scholarships L'Oréal-Unesco, passion and excellence of young women in doctoral and post-doctoral position are valued under the eyes of the scientific community and the general public. Nominees researchers share their excellent academic level and very original science projects. Selecting two of them within APC and UnivEarthS is a double success, for which they deserve the warmest congratulations.
 Photo credits: Fondation L'Oréal / UnivEarthS